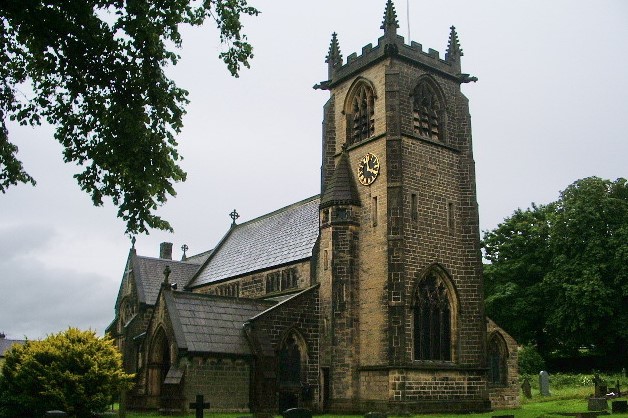 The school is closely linked with St Thomas's Church, which is adjacent to the school premises.
It is a Grade II listed building.  The Church is settled in the village of Sutton in Craven directly next to our wonderful school and opposite Sutton Park.  In the late 17th century Sutton-in-Craven became part of the ancient parish of Kildwick so all Sutton residents were baptised, married and buried at Kildwick Parish Church. But in 1869 Sutton was constituted as a separate ecclesiastical district. Building a church for the new parish started in 1868 and its consecration day was the feast of St. Thomas, 21 December 1869. St Thomas' is now part of the United Benefice of Sutton, Cowling and Lothersdale, where all three churches serve our community in this beautiful corner of North Yorkshire.
The school regularly has Collective Worship and services throughout the Christian calendar in the Church and these are usually led by the Revd. Hellen Collings and/or Revd. Brian Greenfield with the support of school staff and our children.
 The Church is also used as a valuable teaching resource within the wider school curriculum.
Church of England schools are established primarily for the communities they are located in. They are inclusive and serve equally those who are of the Christian faith, those of other faiths and those with no faith.
Church schools in numbers
 Approximately 1 million children attend Church of England schools.
About 15 million people alive today went to a Church of England school.
A quarterof primary schools and over 200 secondary schools are Church of England.
With250 sponsored and over 650 converter academies, the Church is the biggest sponsor of academies in England.
Over 500independent schools declare themselves to be Church of England in ethos.
Across the country, Church of England clergy dedicate a million hours every year to working with children and young people in schools, often providing holiday and after-school activities.
There are 22,500 Foundation Governors in Church schools recruited, trained and supported by dioceses.
Each diocese runs a Diocesan Board of Education supporting Church schools, which represents an annual investment of over £15 million.